Kiev


Kiev or Kyiv
is one of the most beautiful cities in Europe. Founded 1500 years ago, Kiev is the bustling capital of newly independent Ukraine. This city,
with a population of 3 million people, is distinguished for its rich architecture and cultural life. The city boasts two stunning UNESCO World Heritage Sites, and is fast becoming a major cultural destination for Europe, especially for those interested in travelling 'off the beaten track.'
Click here for Ukraine Travel Books

Throughout the city, museums, theatres, opera houses, historical buildings and gardens are to be found, laid out on either side of the picturesque Dnieper River. The western bank is home to the older part of the city and was, pre-urbanisation, characterised by its forested hills, as well as steep ravines and winding rivers, which serve as ice-rinks in winter. Watched over by a statue of the historic protector of Kiev, Michael Archangel, the city also boasts a successful blend of the old and the new. Modern buildings nestle against historical gems and cultural wonders rub shoulders with trendy, buzzing nightclubs, bars and restaurants.
With a skyline defined by the golden domes of numerous churches and monasteries, the streets of Kiev, one of Europe's oldest cities, exude a sense of permanence. It has stood here for centuries, its fortunes rising and falling, but today Kiev exists as a striking modern city which preserves its past, to the delight and more interest of visitors. On holiday in Kiev visitors cannot ignore history, but also revel in the many attractions of this cultural city of charm.

Kiev is a city of invaluable historical and cultural monuments, a city of great events and outstanding people. Everyone will find there something especially interesting for himself.

The art and architecture of Kiev are considered world treasures. Many famous artists, poets and writers estimated the unique beauty of this city. The most renowned landmarks include: Cathedral of St. Sophia with outstanding mosaics and frescoes dating back to the 11th century; Kievo-Percherskaya Lavra featuring several monasteries and cathedrals; Golden Gate of Kiev, which date back to 1037; Ukrainian Baroque Church of St. Andrew; the magnificent 19th-century Cathedral of St. Vladimir; and many other attractions. Kiev is often referred to as "the mother of all cities" by Russians and Ukrainians. It is one of the oldest towns in Europe. In the historical center of Kiev you can feel the spirit of the past everywhere.
Kiev is distinguished for its rich cultural life. Theater lovers will find many theatres offering various theatrical programs. Most performances are held in Ukrainian or Russian. The recently renovated Kiev Opera House presents very good opera as well as a broad repertoire of ballets. Ivan Franko Theater is a center of Ukrainian drama, comedy, and musicals. A lot of various exhibitions are carried out in the city's numerous museums and art galleries.Take a walk through the ancient streets of this scenic city, feel its unique beauty and the spirit of its past. For sure your stay in Kiev will become one of your most memorable experiences.
A wide variety of farm produce is available in many of Kiev's farmer's markets with the Besarabsky Market located in the very centre of the city being most famous. Each residential region has its own market, or rynok. Here one will find table after table of individuals hawking everything imaginable: vegetables, fresh and smoked meats, fish, cheese, honey, dairy products such as milk and home-made smetana (sour cream), caviar, cut flowers, housewares, tools and hardware, and clothing. Each of the markets has its own unique mix of products with some markets devoted solely to specific wares such as automobiles, car parts, pets, clothing, flowers, and other things.
Kiev's Top 5: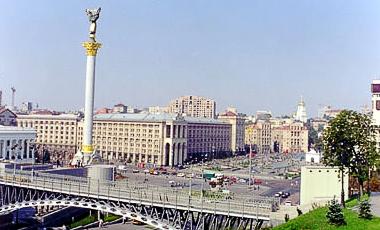 Independence Square
St. Sophia's Cathedral.

one of the city's best known landmarks and the first Ukrainian patrimony to be inscribed on the World Heritage List along with the Kiev Cave Monastery complex.

The cathedral is famous for its mosaics and frescos by Byzantine masters that date back to the 11th century. Marvelous frescos decorate walls, pillars and vaults. Inside, the central part of the cathedral is decorated with large mosaic depicting praying Virgin Mary.

Kiev Fortress. Kiev fortress is the 19th century fortification buildings situated in Ukrainian capital Kiev, that once belonged to western Russian fortresses. These structures (once a united complex) were built in the Pechersk and neighbourhoods by the Russian army. Now some of the buildings are restored and turned into museum called the Kiev Fortress, while others are in use of various military and commercial installations.

Independence Square

.

The central square of Kiev is located on Khreschatyk Street. The square has been known under many different names, but it became known simply as the Maidan due to the political events that took place there in 2004 after the Ukrainian accession to independence. The square

becomes a large outdoor party place at night during summer months, with thousands of people having a good time in nearby restaurants, clubs and outdoor cafes. The central streets are closed for auto traffic on weekends and holidays.

Kievo-Pecherskaya Lavra. On the high hills of the right bank of the Dnepr River magnificent Kievo-Pecherskaya Lavra topped with gilded domes is situated. According to the legend, Apostle Andrew, while preaching the Word of God in the Scythian Land, blessed the hilly bank of the Dnepr River and said to his disciples: "On these hills great city and many churches in glorification of Holy God will be".
Golden Gate.

The Golden Gates of Kiev is a major landmark of the Ancient Kiev and historic gateway in the ancient city fortress. Currently it serves as a museum and can be found on the corner of Volodymyr street and Yaroslaviv Val Street (Yaroslav's Moat).

The gateway was one of three constructed by Yaroslav the Wise, Prince of Kiev, in the mid-11th century. It was reputedly modelled on the Golden Gate of Constantinople, from which it took its name.

Golden Gate



References:
http://kievukraine.info/
http://www.kiev.info/